You can experience "work on location" with front line companies and professionals.

In collaboration with the front line companies and professionals, we train students through "corporate projects." This prepares them to become professionals with concept presentation skills, creative abilities, demonstration skills, and communication skills desired by the industry. Students polish their practical skills through assignments that include real work experience, such as developing products and creating company-sponsored musicals and concerts. Students of our schools work on many corporate projects, starting from the 1st year.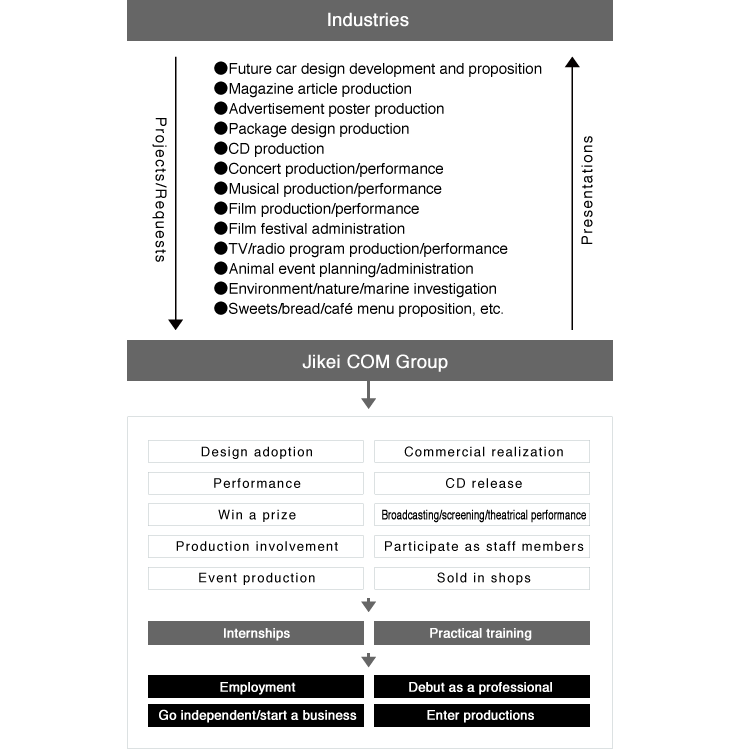 ■ISU World Figure Skating Championships 2007
Corporate project by: International Skating Union, Japan Skating Federation and COMNET Corporation
The official logo used for the ISU World Figure Skating Championship in March, 2007, was designed by TCA student Chika Hashizume majoring in graphic design. Her work was chosen as the official logo of the championship over those from major advertisement agencies. Ms. Hashizume reflects on the experience that "it was very encouraging to have support from Mr. Shinozuka, who is one of the top creators that designed the Nagano Olympics logo and many famous companies' corporate identities (CI). " Corporate projects at our group's schools are full of chances to challenge yourself with high-level projects and realize your dreams.


■Car Design: Ferrari Project
Corporate project by: Ferrari S.p.A. in Italy
Corporate projects for the car design course are world-wide affairs. The biggest of all was the Ferrari Project in 2005. The design brief was to create a proposal for the "next-generation eight-cylinder midship engine/12-cylinder front engine Ferrari with new and exciting style, features, exterior and interior." Ferrari selected four design institutes from all over the world to participate, and TCA was chosen to represent Japan at the competition. TCA's designs received the "Best Design" award, the "Best School" award and the "Best Female Team" award. Award winners were given internships and the chance to be employed by Ferrari.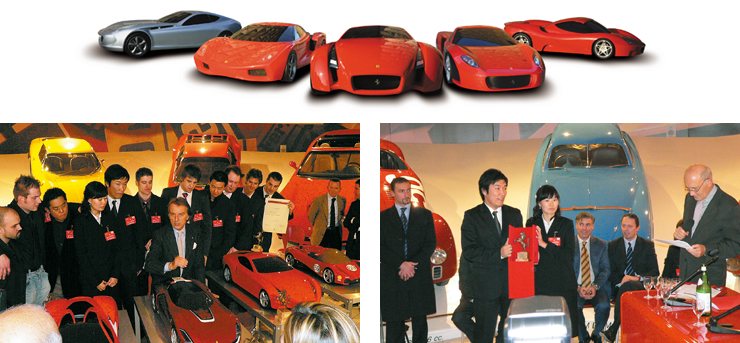 ■Bone Marrow Transplant Campaign Musical "Gateway to Tomorrow"
Recommended by: The Ministry of Health, Labor and Welfare. Sponsored by: Masako Natsume Himawari-kikin Foundation and Japan Marrow Donor Program.
What can we do to help those suffering from leukemia...? Our students explored this question by creating an original musical, "The Gateway to Tomorrow." The musical, sponsored by Masako Natsume Himawawri-Kikin Foundation and the Japan Marrow Donor Program and co-sponsored by over 150 companies, is recommended by the Ministry of Health, Labor, and Welfare. There have been over 100 shows performed all over Japan, and it has attracted over 120,000 viewers since the first performance in 1994. Students are proud to be a part of this musical, whether as an actor, dancer, a member of the wind orchestra or gospel group, stage production staff, or as a lighting engineer, planner, manager, or make-up artist.


■New product proposal for a food manufacturer and menu proposal for a hotel
Company project by: Shirohato Food Corporation "The Sweet Potato Shop La-poppo"
At our culinary arts schools, students work on corporate projects from food manufacturers, hotels, and cafes. Many of their proposals have been incorporated into companies' menus. In the project by Shirohato Food Corporation to create and propose "sweets using sweet potatoes," Ms. Yuka Tokunaga, a culinary art school student majoring in western confectionery, was awarded the highest award for her "Soy-Imo Cheesecake." After a several commercial meetings and trial production, her dessert was put into production and sold at stores in October, 2008. Ms. Tokunaga comments, "I learned the hardship of creating sweets as well as of selling them." The company finds her work promising and has asked her to "keep on creating exciting products."